Which size will work for me ?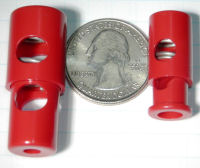 Maxi on the left of the quarter - mini on the right.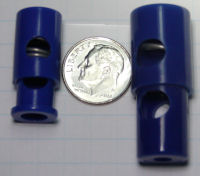 Mini on the left of the dime - maxi on the right.
As you can see the body size is different as are the holes. 
Please check specifications on the appropriate pages.


Many of our frequently asked questions about Oregon Cord Lock.
How do I place my order?
Use our contact e-mail [email protected].
Give us information about your preference about billing. We accept payment by credit card on the PayPal platform.
You do not need a PayPal account you may use your credit card through PayPal like any other online purchase.
Of course we accept checks or money orders sent be snail mail as well.
We will confirm your order if we have questions by e-mail.
Otherwise we will send you on online invoice.
You may contact us by phone although payment will
need to be made online or by check snail mail.
Phone 503-695-5430
or e-mail is the preferred contact [email protected].
Can I mix several colors in my order?
Yes and we love small orders folks.
Please see our price list, use your total needed to decide on your shipping,
then contact us about the number of color changes.
Let's say your order is 100 mini cord locks
1 color price is .16 cents each.
2 colors in 100 parts are .17 cents each.
4 colors in 100 parts are .18 cents each.
4 Handi-Bobs can be added to most orders for $1.00
Each order is different and if you contact us we can help you with pricing.
How long until I receive my order?
Usually 1 week or less.
Priority mail has been very successful and is usually 2 to 3 days the cost is always cheaper on an order once we are over 7 oz .
Small orders are usually shipped 1st class and they take about a week depending upon your location
How much does shipping cost?
100 mini-locks weigh 8+ ounces add packaging 11 ounces shipping is priority envelope and is $8.10.
100 maxi cord locks weigh 13+ ounces plus packaging 15 ounces in this case we send priority small flat rate at $8.75
Another Example: 1,000 mini-locks shipped Priority Mail from Corbett, OR 97019 anywhere in the US in a postal flat rate box is $15.75
or less if regional mailing class falls into it with the zip code we can give a more accurate price.[email protected]